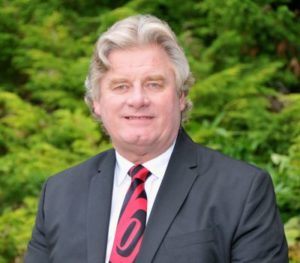 The CIPS BC Board was very sad to learn that David O'Leary, CIPS BC Board President, 2011-13, and Past President, 2013 -14, passed away on Saturday May 26th in Chilliwack at the age of 63.
Dave was instrumental in so many successful CIPS initiatives. His leadership of the provincial board during these years was very typical of him… welcoming, open to ideas, supportive, enthusiastic…. a long list that made working on CIPS projects with him such a rewarding experience for volunteers. 
When CIPS Victoria played host to a lunch with the BC Minister of Technology Andrew Wilkinson in November 2014, Dave was a wonderful representative of our organization, engaging the Minister in discussions about accreditation and certification … along with his ever-present fabulous fishing stories! The Minister was happy to meet him again a few days later at a performance of Vancouver Opera at the Queen Elizabeth Theatre …. and more fishing chat apparently.
Dave's participation in the summer of 2016 with a small working group creating a CIPS position paper for the Federal Privacy Commissioner resulted in an invitation to CIPS to attend a follow-up meeting in Toronto later that year.
Dave always saw himself as an educator; and his post-secondary level students in BC greatly benefited from having him in their lives, telling (more) funny fishing stories while making complex computer matters understandable, if not easy.
In addition to his commitment to CIPS Dave was for several years a valued board member of another federal organization ICTC, the Information and Communications Technology Council. His colleagues there are also very saddened by the news of his passing, and he will be greatly missed. 
Marilyn Harris Hon. FCIPS
CIPS BC
CIPS Mourns the Passing of Past CIPS BC President David O'Leary